Looking for high quality wildflower seeds or other nature-friendly gifts?
You've come to the right place!
Unlike many others, all our wildflower seed packs are pure UK wildflower seeds - no grass or fillers!
Why buy from us? - We are an eco-friendly family run business helping our natural world by promoting the planting of wildflower meadows for bees, butterflies and other pollinators.
View shop - click here | view gifts - click here | view seeds - click here
Customer Reviews…
SUPER QUICK DELIVERY!

I've bought seeds in the past and haven't been disappointed. The flowers have been superb and brought a riot of colour to our little meadow to attract more insects and especially bees.

Mandy Bradley-donald
WILDFLOWERS

Best seeds I've ever bought, I was the envy of my neighbours and they lasted so long, I would highly recommend!

Coreen Jones
SUPERB!

Arrived promptly, easy to sow but most importantly they have grown so quickly and strongly - just fantastic!

Rowena Bowles
VERY PLEASED!


Bee-Bountiful is a great gift set packed with a mix of goodies for the garden and goodies for the soul.


Lyn
A LITTLE SUNSHINE FOR UKRAINE!

Lovely sunflower seeds, Ukraine's national flower, will help the people of Ukraine in a small way. Spread a little sunshine and sow these
lovely flowers.

Janet Tidswell
LOVELY PRESENT!

Great quality, my sister loved the present

Vivienne Young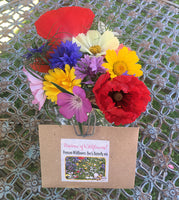 Our UK wildflower seed mixes...
Our UK wildflower seed packs include 10 grams - enough for up to 10 sq meters - of pure UK native & naturalised wildflower seeds (no grass or fillers!) - for use in pots, gardens or meadows.
They're a mix of annual and perennial UK wildflower seeds, selected to attract bees and butterflies, optimised to help the UK bee population survive and thrive.
Contents vary but include a mix from: Pheasant Eye, Pot Marigold, Cornflower, Love-in-a-Mist, Corn Cockle, Poppy, Borage, Purple Tansy, Clovers, Zinnia, Birdsfoot, Bitter Blue Lupin, Scented Mayweed, Northern Lights, Soapwort, Yarrow, Chicory, Foxglove, Sainfoin, Burnet, Black Medic, Barley, Corn Marigold, Gypsophila, Four o' Clock.
For info on how, where and when to sow your wildflower seeds click here for Seeds4bees Sowing Guide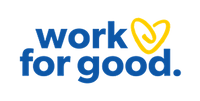 Our Good Causes:
We will donate a minimum of 20p per Wildflower seed purchase to Bumblebee Conservation Trust via Work for Good (alongside donations to our other good causes)